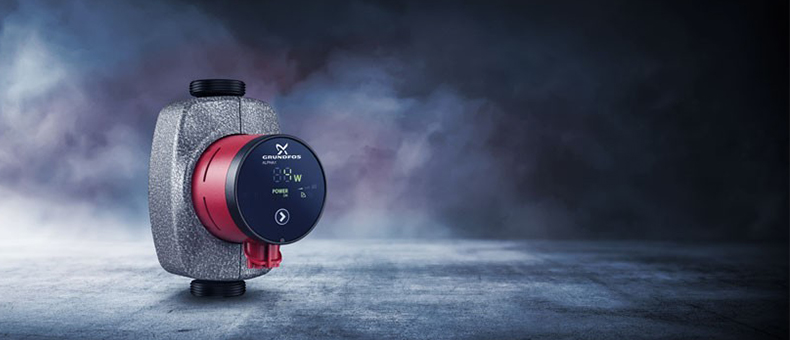 The Grundfos ALPHA1 is our cost-efficient yet high-performing circulator, offering energy efficiency at an affordable price. The ALPHA1 has been proven to reduce energy use by up to 80 % compared to traditional pumps and is the ideal choice in applications where the Grundfos UPS has been used to fulfil basic circulator needs.
The ALPHA1 offers multiple operation modes and is adaptable to one- or two-string radiator systems and underfloor heating systems. This means it's easy to install and can take care of all your basic pump needs.
Proportional pressure
The ALPHA1 features three proportional pressure modes. If selected, the differential pressure varies proportionally with the flow, i.e. a higher flow means higher differential pressure. Proportional pressure is the preferred choice for two-string radiator systems.
Constant speed or constant pressure
The ALPHA1 offers three constant speed modes for constant flow applications. The pump also features three constant pressure modes to maintain pressure regardless of the flow. These constant pressure modes are the preferred operation modes for underfloor heating systems and one-string systems.
Easy operation
The ALPHA1 features a power display and indications for control modes that provide an easy overview of all pump operations. The circulator's intuitive one-touch operation also makes control mode selection simple while the ALPHA plug makes electrical installation easier than ever.
The Grundfos ALPHA1 is suitable for:
One and two-pipe radiator systems
Underfloor heating systems
Domestic hot-water recirculation
Suitable for air-conditioning systems with liquid temperatures ≥ 2 °C
Key features and benefits:
Proportional pressure mode
Constant speed mode
Constant pressure mode
Easy installation and operation
Benefits
Low energy consumption
Simple installation and operation
Basic functionality needs for most heating systems
ALPHA 1 Product brochure click here!. Find more information or order? call us on : +(6221) 739 9809 & 7207977 or email : info@ptair.co.id.