GRUNDFOS E-PUMP FOR FOOD & BEVERAGE NEW FACTORY
Saving Energy with Grundfos E-Pump on New Industry Projects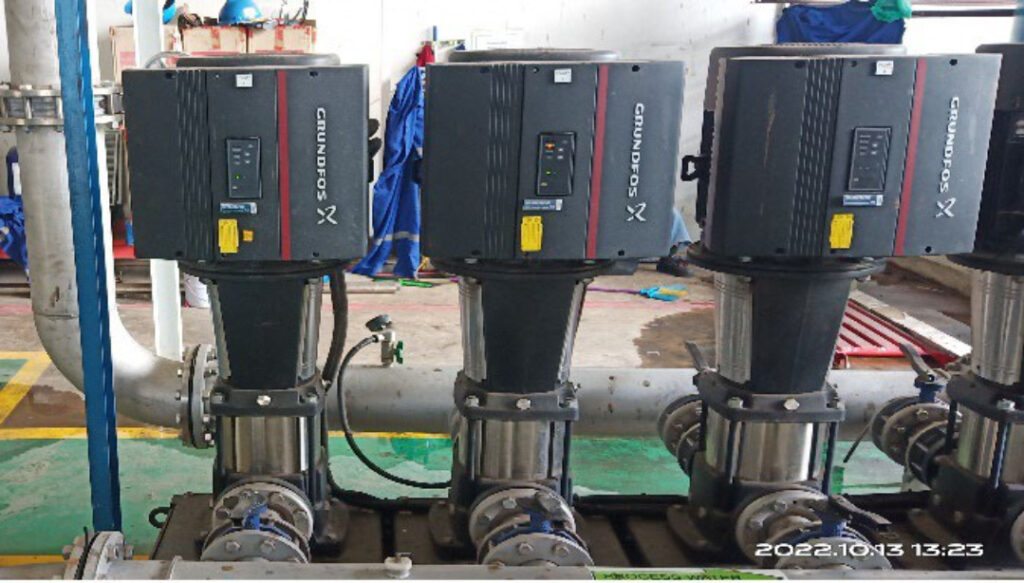 As We Know Grundfos is the first water solutions company to receive validation of its 2050 net-zero target from the Science-Based Targets initiative (SBTI), Industry is one of the most energy consuming sectors, and pump systems may account for up to 40% of industrial energy usage.
To support this energy saving program, there are many steps that can be taken. one of these steps is by offering the Grundfos E-Pump for new pump projects in industry, replace old pump with E- Pump.
On average Grundfos E-pumps consume 37% less energy than standard pumps, which is good for business and contributes positively to emissions reduction. Grundfos E-pumps are an example of how we develop solutions that not only consume less energy but also use the available energy more efficiently.
We grab a project for new Factory of the Food & Beverage manufacture.
The customer is one of the biggest beverages manufacturer in Indonesia. We are supply pumps with model CRE 45-2 A-F-A-E-HQQE (4pcs) with a power of 15 kw.
Our winning point is have the same awareness of saving energy. We are held presentation of SBTI and saving energy to explain to the customers that the high-efficiency E-Pump motor makes a big contribution to energy savings and reduces the CO2 footprint.
Apart from that, we also explain to customers that the built-in application control on MGE E-Motors not only reduces energy consumption of the pump itself but also optimizes the performance and efficiency of the entire system.
"We hope that by offering Grundfos E-Pump on every new project, Grundfos's goal of net-zero targets from the Science-Based Targets initiative can be achieved\
CRE 45-2 A-F-A-E-HQQE
Rated flow 54 m³/h, Rated head 57.2 m. Vertical, multistage centrifugal pump with integrated frequency converter. The pump head and base are in cast iron all other wetted parts are in stainless steel (EN 1.4301). The pump head and base are in cast iron-all other wetted parts are in stainless steel. A cartridge shaft seal ensures high reliability, safe handling, and easy access and service. Power transmission is via a rigid split coupling. Pipe connection is via DIN flanges. The pump is fitted with a 3-phase, fan-cooled