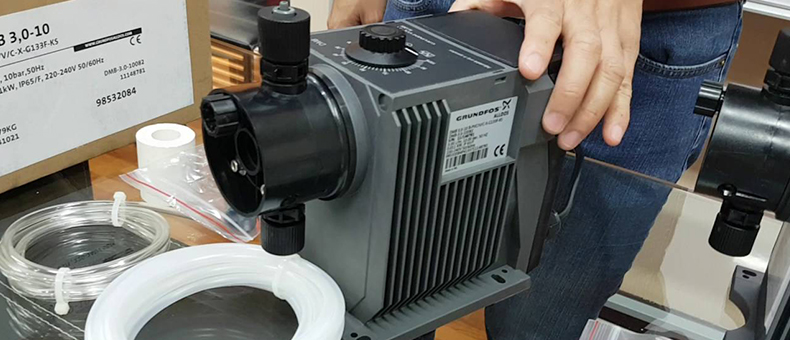 Variations on the Synchronous-Motor Theme
The Grundfos DMB range of dosing pumps comprises several variants for general or specific dosing purposes. Dosing heads and valves are available in different materials to suit a wide range of general water treatment and industrial applications.
Whichever model you choose, you get a sturdy, cost efficient pump based on a well-proven synchronous motor design. The DMB range can dose rates from 1 to 18 l/h and pressures up to 10 bar.
Silent operation
Regardless of model, the DMB pump is among the most silent of its type available on the market today. It keeps its noise levels down to just 45 dB(A).
Flexible installation
The Grundfos DMB is suitable for both horizontal and vertical installation. If installed horizontally, the control elements are located on the top of the unit for easy access.
Proven synchronous-motor technology
The synchronous-motor technology used in the Grundfos DMB range combines robustness and precision. It keeps pulsation low and performance high.
The DMB A or B: With or without signal inputs
The DMB range is suitable for a wide range of dosing tasks. Choose between control variant B, designed for simple manual control, or control variant A which offers more sophisticated control features, such as:
• Pulse control with multiplier/divisor that converts signals into strokes as appropriate
• Stroke-frequency control
• Access to check functions and venting
• Optional memory function.