Grundfos RC pumps are used for the circulation of liquid refrigerants in refrigeration systems.
The RC pumps have been designed and optimised for use with CO2 as a refrigerant, but can also be used with NH3 (Ammonia) and selected HFCs.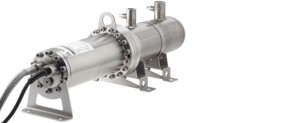 The low required NPSH and the fact that no traditional loss-generating protective devices are needed can help system designers to reduce the dimensions and cost of the system. The RC pumps have an innovative design in stainless steel which makes specially suited for use with high pressure refrigerants (CO2) – the pump has only one seal between the refrigerant and ambient sides. A version with welded connections eliminates the use of counter flanges and possible leakage in flange connections.
Applications
Grundfos RC pumps are designed for the circulation of liquid refrigerant in refrigeration systems.
Features and benefits
Barrel-type, semi-hermetic, high-pressure design
Multistage centrifugal pump
Canned motor (no shaft seals)
High energy efficiency
Wide range for variable speed capacity control
Low NPSHR and robust to vapour bubbles in inlet
Installation and service friendly
Compact and low weight.
PT. Andalan Inti Rekatama  –  GRUNDFOS  Authorized Dealer   – Service Partner