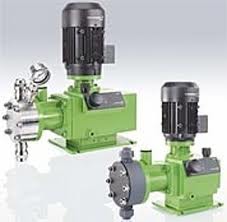 The DMH 25x and DMH 28x series are extremely robust, high-performance dosing pumps with a full PTFE diaphragm for process engineering applications. They offer extended longevity due to innovative piston diaphragm technology. This series guarantees high dosing accuracy and excellent safety functionality due to a serially integrated diaphragm protection system, integrated pressure relief valve and gedassing valve of the hydraulic system.
DMH – Hydraulic Diaphragm Grundfos Dosing Pumps
Oscillating  positive displacement pumps with hydraulic diaphragm control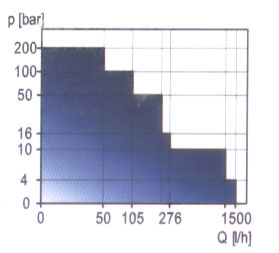 Technical Data :

Capacity, Q : max 1500 l/h ( pump with two heads : 2 x 1500 l/h )
Pressure, P : max 200 bar
Liquid Temp : max + 90 degree Celcius.
Applications :
•    Oil refinery industry
•    Heavy –duty applications
•    Drinking-water treatment     ( settlement / sludge treatment )
•    Pulp / paper and textile industries.
Features and Benefits :
•    Designed for heavy-duty operation
•    Stroke-length adjustment.
Options :
•    Servomotor for stroke-length adjusment
•    Motor frequwncy control
•    Available with API 675 approval
•    Available with ATEX approval
PT. Andalan Inti Rekatama  –  GRUNDFOS  Authorized Dealer   – Service Partner  –Grundfos Alldos Dosing